PRE-ORDER
All of the features on the Alterlock are designed for the peace of mind of the cyclist.
Installation
Attached to the base of the bottle holder
It does not affect the design or aero performance of the road bike.
Mobile App
Connect with the AlterLock app
You can lock and unlock it with a simple one-tap operation.
Alarm
Loud vibration detection alarm
It also has a vibration detection level setting and false detection measures.
Notification
You'll get notifications regardless of distance.
It automatically switches to Bluetooth over short distances and to Sigfox over long distances.
Tracking
GPS and Wi-Fi tracking
GPS and Wi-Fi positioning allows for long term tracking from outdoor to indoor.
Main features
Monitor Your Bike with Lock Mode
Go into lock mode with a simple control in the smartphone app, and AlterLock will protect your bike with a loud alarm and GPS system. The long-life battery can last up to two months.
You can control up to three devices from the smartphone app. Locking and unlocking, alarms, and vibration detection levels are also set from the app.
If you have an iPhone or any Android model that supports automatic Bluetooth connectivity, you can lock and unlock it with the press of a button on the AlterLock itself, without having to open the app. You can take a break from your bike and start driving immediately without the hassle of taking off your gloves or taking out your phone.
Alarms & Notifications
When AlterLock detects your bike vibrating while in lock mode, it will sound an alarm and send a notification to your phone. If your bike is moved, a loud alarm will also deter theft.
Alarms are highly effective in deterring theft, but you don't have to worry about the embarrassment of accidentally setting off a loud alarm. The initial vibration detection can be set to sound a relatively quiet warning tone. In case of theft, additional vibrations can be added to the alarm to intimidate the perpetrator with a loud alarm.
The smartphone has its own notification sound, so you can run to your car without missing it.
Vibration Detection for Multiple Scenarios
Equipped with AlterLock's proprietary vibration detection algorithm. It detects behaviour in the event of theft with settings optimized for multiple situations, from being fixed in a bicycle parking lot to road bikes swaying on bike racks.
The vibration detection mechanism has evolved dramatically in the second generation. By analyzing the shaking and impacts that are likely to occur in different situations, we have succeeded in reducing the number of false alarms caused by shaking and impacts in a cycle rack, for example.
In an entirely stationary environment, the system can also be set to react to even the slightest vibration, which can deter theft or tampering with items such as lights.
GPS & WiFi Tracking
In the unlikely event that your bike is stolen, AlterLock tracks it once a minute to determine its final location. If it is moved indoors where there is no GPS signal, the device uses WiFi signals to determine its approximate location.
What sets AlterLock apart from many other tracking devices is its ability to track your location independently. By employing a highly accurate GPS module and Sigfox communication, the device transmits location information even from hundreds of kilometers away, unlike Bluetooth, which has a maximum range of about 100 meters.
The second generation also uses WiFi signals for positioning, increasing the possibility of determining your location even indoors, where there is no GPS signal. It can also provide clues in cases where the vehicle is abandoned or when the police search for it.
Smart Design
Designed with aerodynamics in mind, it can be fitted to the bottle holder pedestal on most sports bikes. It can be discreetly installed into your existing bottle holder without compromising the frame's aesthetics.
Do not interfere with the design of the frame. Does not compromise the aerodynamics of the vehicle. It must be lightweight.
The AlterLock fits into the downtube width of most road bikes. The curve along the bottle cage ensures that aerodynamics are not compromised. You can feel the lightness in your hands.
Communication system
The system automatically switches between "Bluetooth" for short distances and "Sigfox" for longer distances to ensure that notifications are delivered to your smartphone.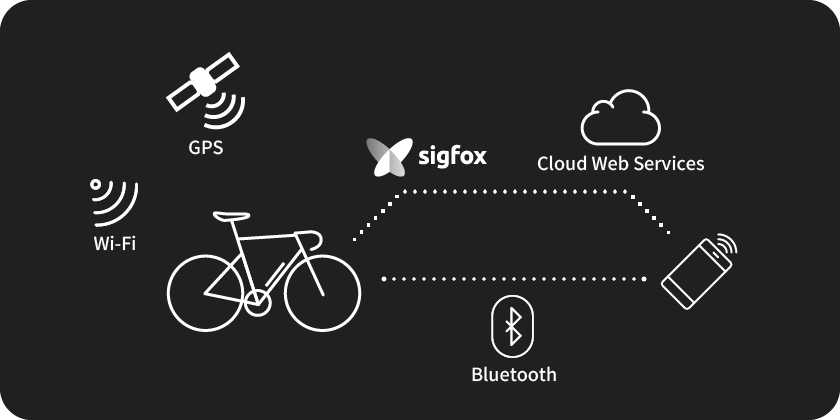 Sigfox is one of the communication standards called LPWA, which enables low power consumption and long-distance communication.LPWA is attracting worldwide attention as a communication technology for the IoT, which connects everything to the Internet.By being one of the first to adopt this communication standard, AlterLock has created a small, lightweight device that can operate for a long period of time at low cost.
For more information about Sigfox's service area, please refer to this page.
Comparison with Bluetooth /
GPS trackers
| | AlterLock | Bluetooth tracker | GPS tracker |
| --- | --- | --- | --- |
| Vibration detection alarm | ● | × | × |
| Smartphone notifications | ● | △ | × |
| GPS tracking after theft | ● | △ | ● |
| Constant GPS tracking | × | × | ● |
| Battery life | ● | ● | × |
| The size of the device | △ | ● | △ |
| Mounting on road bikes | ● | △ | × |
* Comparison with general products.
Differences from Bluetooth trackers
Bluetooth trackers use your smartphone's location to track your device. They are extremely lightweight and low power consumption, making them ideal for searching for lost items at short distances.
AlterLock is equipped with stand-alone communications and GPS, so it can be tracked anywhere in the communications area.
Differences from GPS trackers
GPS trackers are good for recording travel routes because they frequently acquire location information; GPS has very high power consumption and often runs for tens of hours at most.
AlterLock uses GPS in conjunction with an accelerometer only in the event of theft, so it can be tracked for weeks.
Our commitment to aero performance
Nowadays, the pursuit of aerodynamic performance is nothing special for road bikes.
The AlterLock is an anti-theft device, but it has been improved in terms of size and aerodynamics without sacrificing aero performance. 。
We've perfected a device that allows all cyclists, from beginners to pros, to focus on riding with confidence.
At a speed of 40 km/h, the Cd value is +0.00062. This is a difference of less than 0.01 seconds per hour.
Flow of AlterLock Action
---
App Features
Register your bike's photo, specs, and VIN number
Toggle the device lock mode
Device settings (for various situations including vibration detection level, alarm on/off, alarm duration, first alarm sound, number of alarms, regular transmission, etc.)
Push notifications and audible alarms when the device detects vibration or receives location information
View location and history while tracking on the map screen
Tracks maintenance history for safer riding
※1. Compatible with BLE-supported Android 5.0 and above and iOS 11 and above.
※2. View a list of verified compatible smartphones.
Easy Installation
2
Subscribe to Cycle Guard Service
3
Register your bike and device in the app
Device Specifications
Size
159mm long x 38mm wide x 9mm thick
Weight
50g
Battery
Lithium polymer
Lithium polymer
USB Type-C
(charging cable not included)
Temperature
Operating Temperature -20~60℃
Chargeable Temperature 0~45℃
Uptime
Up to 1.5 months
(varies according to usage)
Communications
Bluetooth Low Energy / Sigfox
Location Trackin
GPS (GNSS) / WiFi
Water/Dustproof
IP66
Accessories
Start Guide, 2 mounting bolts