Hi, my name is Toru and I'm in charge of marketing at AlterLock.

In this fourth post, I'd like to introduce the tracking function, one of AlterLock's main functions along with interference detection.(Please refer to the previous article here: https://alterlock.net/en/post-875)
Here we go.
Switching from interference detection mode to tracking mode
---
As I mentioned in the previous post, if AlterLock detects someone is interfering with your bike, it sounds an alarm and simultaneously sends a notification to your smartphone. If you're nearby, you'll be able to go and check your bike straight away. If it turns out not to be an attempted theft—for instance, maybe your bike got bumped as the owner of the bike parked next to it was moving theirs—tap Misdetection in the upper left corner of the AlterLock app screen. The alarm will be canceled but lock mode will be maintained.
If you can't get to your bike, or if you get to where it was and find it gone, the app lets you enter information about the theft.
However, before you do that, I suggest you first check the vicinity. If you'd left your bike in front of a convenience store or in a bike parking lot, it's possible one of the staff simply moved it to a different spot.
Here's the information entry screen.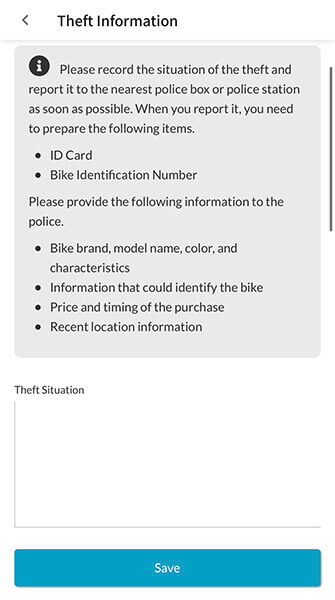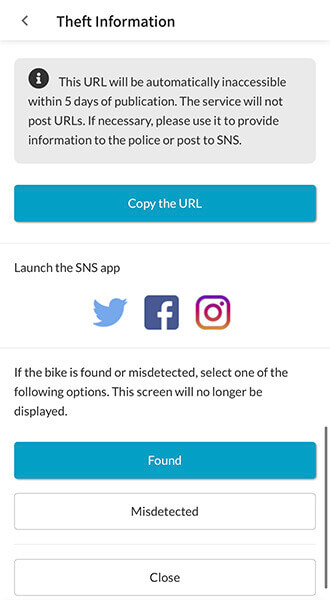 On this screen, you can enter details about what happened, copy the text into a social media post to get word out about the theft, and obtain the URL for sharing location information so others can be on the lookout for your bike. As well as sharing the information on social media, it's best to report the theft to the police to make it more likely your bike will be recovered.
Tracking mode
---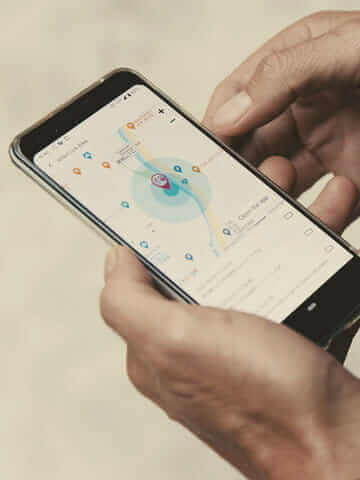 If the AlterLock device detects your bike being moved a second time, it starts acquiring location information. It doesn't do this the first time because it's unlikely the bike's position has changed at that point. So it only acquires the information from the second time, when it's likely your bike is actually being stolen.
After that, the AlterLock device goes into an operating sequence where every time it detects movement, it acquires location information and sends that location to your smartphone via Sigfox and the Internet. This approach means you can't check the location in real time. However, this is intentional because even though we realize you might want such real-time tracking, battery life is a priority for us. We believe that the possibility of finding your bike is much greater if tracking is enabled for as long as possible by conserving battery power through periodic, instead of continuous, communication.
You can check your bike's location by tapping Location Info on the app's top screen.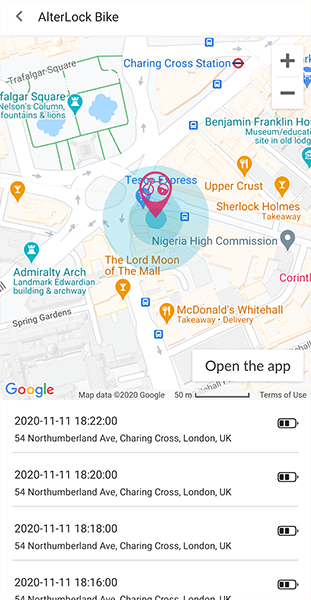 If your bike is being kept indoors, where it's difficult for the AlterLock device to get location information by GPS, it can use Wi-Fi to get the information. So it's possible to pinpoint you bike whether it's indoors or out.
Lastly, I want to tell you about a survey of bike theft experiences we conducted this year in three countries: the UK, the Netherlands, and Germany. You'll find the report here: https://alterlock.net/en/post-7854. This will not only help you prevent your bike from being stolen but will also tell you what to do if someone does steal it.
In the next post, I'll introduce some features of the AlterLock app that you'll find useful as a cyclist. I'll talk to you then.