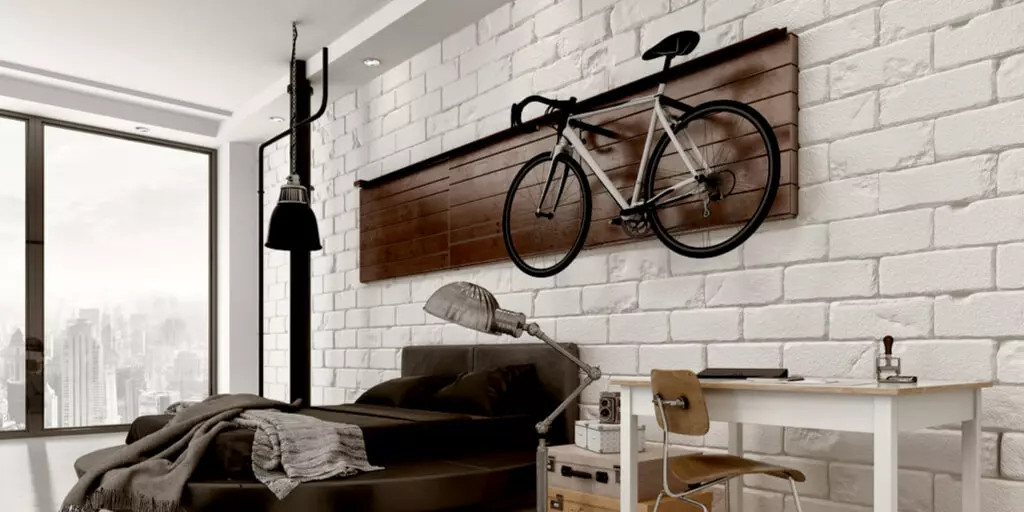 Storing Your Bike Indoors Is Fundamental to Theft Prevention
As we have mentioned in previous blogs, more than half of all reported bike thefts occurred in people's homes. You shouldn't feel that your bike is 100% safe just because it is stored in a garage or a bike shed. Unlike cars or motorbikes, road bikes weigh only about 10kg. It's easy for thieves to quickly take them from your home without making noise. Stealing them from your home at night is not only less noticeable but also tends to make it harder to identify the thief on security cameras. The most effective way to store bikes to prevent theft is to keep them in locked indoor spaces, where they cannot be freely accessed by others.
Storing Indoors Helps to Keep Them in Good Condition Long-Term
Road bikes and s bike components are all lightweight, highly efficient and expensive. Storing road bikes in areas open to the elements can lead to rusted screws, chains and wires, which can also compromise safety.
Carbon, which is often used in more expensive frames and wheels, can weaken over time. The resin that connects carbon fibres together can deteriorate in these weather conditions and causes bikes to break down. UV rays can be prevented by putting a cover on, but moisture will be harder to combat. All of this means that indoor storage is by far the most effective way to keep your bike in optimal condition.
The Best Ways to Store Road Bikes Indoors (with Examples)
There are several ways to store your road bike indoors. Some may like their bike to be as discreet as possible inside the house, some may like to display them like it is part of the interior. Let's take a look at a few different options.
Example 1 – Floor Stands for Easy Access to Your Bike
One of the most common ways to store bikes indoors is just simply to place the road bike in a convenient place. Although it takes up some space in the room, it is the easiest way to get the bike in and out. This makes it a good choice for bike riders who ride their bikes on a daily basis. Simply propping the bike against a wall is an excellent storage method, but as the handlebars are wider, it may be awkward to balance so it is better to use a bike stand to stabilise the bike if possible.
Maintenance Stand: The Standard Floor-Standing Solution
One of the most common bike stands used for maintenance is the chainstay holder that stabilises your bike by sandwiching the quick release on the rear wheel section of a road bike from both sides. Most of these stands are foldable and they do not take up much space while your bike is off the stand. Note that depending on the shape of the quick release, the rear wheel may not fit properly on the stand, so we recommend you double-check if it is appropriate for your bike when purchasing.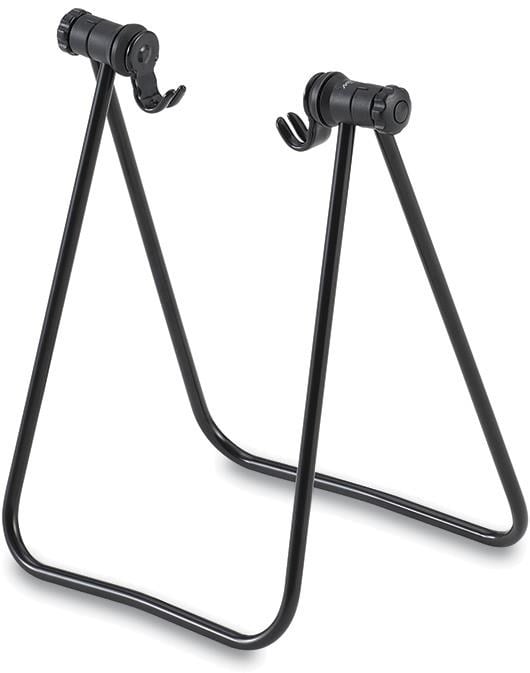 Another stand that is commonly used is one that hooks onto the frame at two points on the seatstay and chainstay. This type simply lifts the bike and hooks the chainstay on the stand. This stand can be used without thinking too much about the width of bikes or the shape of parts, and can also be used for simple maintenance.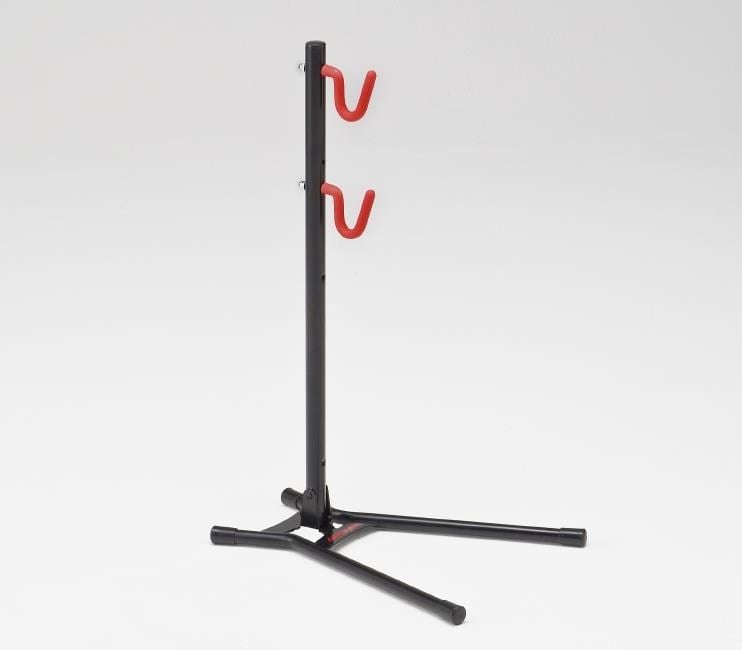 These types of stands let the rear wheel stay raised above the ground which is helpful when cleaning the chain or adjusting the transmission.
Display Stands
As the name suggests, display stands focus on displaying your bike. They are stable because they support only one side of the bike and hold the front and rear wheels on the floor. However, it is not suitable for maintenance since the wheels are touching the floor. This stand is recommended for people who want to spend time indoors looking at their bikes.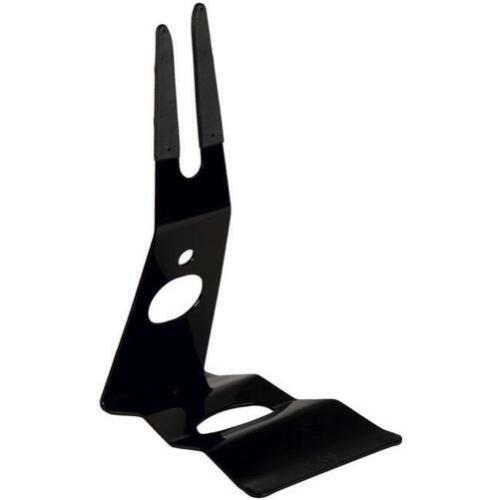 Roller Stands
Roller stands are mainly used for indoor training rather than as stands. However, the ability to secure the bike allows it to be used as an indoor storage stand that can be used for training at any time. It could be a good option for those who like road biking and racing, or for those who want to develop their leg strength in preparation for longer rides. Triathletes and cyclists who spend a lot of their time on the road, find these useful as an indoor trainer/stand for pre-races and rainy days.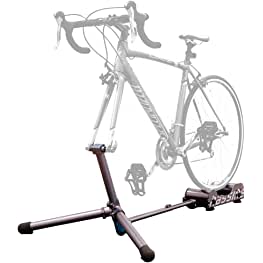 Optional – Consider Purchasing a Rubber Bike Mat
One of the disadvantages of floor stands is that many types of stands have wheels touching the ground and they tend to make the floor dirty. Of course, you can prevent this to a certain extent by covering the floor with newspaper. However, if the road bike falls over, the floor might get damaged by the pedals or other parts. If possible, it is safer to lay down some kind of rubberised mat underneath the stand which is easily wipable.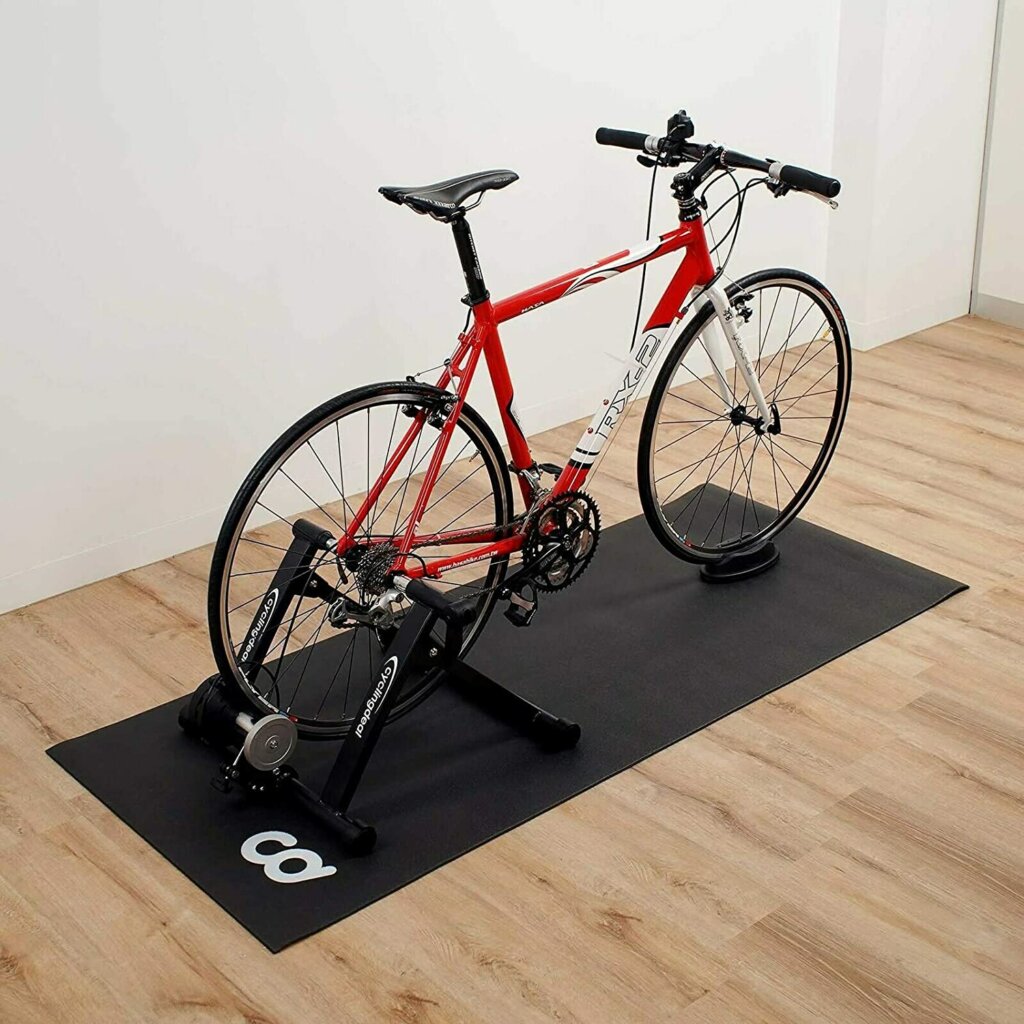 Example 2 – Vertical Floor Stands to Save Some Space
If you live in a small apartment, and/or your bike parking options are space-limited, a vertical floor stand might be a good solution. This way, the storage area becomes taller but with less ground space. Since road bikes are lightweight, it does not take much effort to pick them up and store them vertically.
Vertical Bike Hook
Wall mounting stands can not only store your bike horizontally but also can be placed vertically. This way, the areas that would have been dead space otherwise can become useful as storage. You can simply attach your tyres to a wall-mounted hook. Many of the hooks themselves have a stylish design and are recommended for people who want to display their bikes. Like bike hangers, you don't need to lift the entire body of the bike, just the front wheel to secure it, so the effort of standing it up is minimal.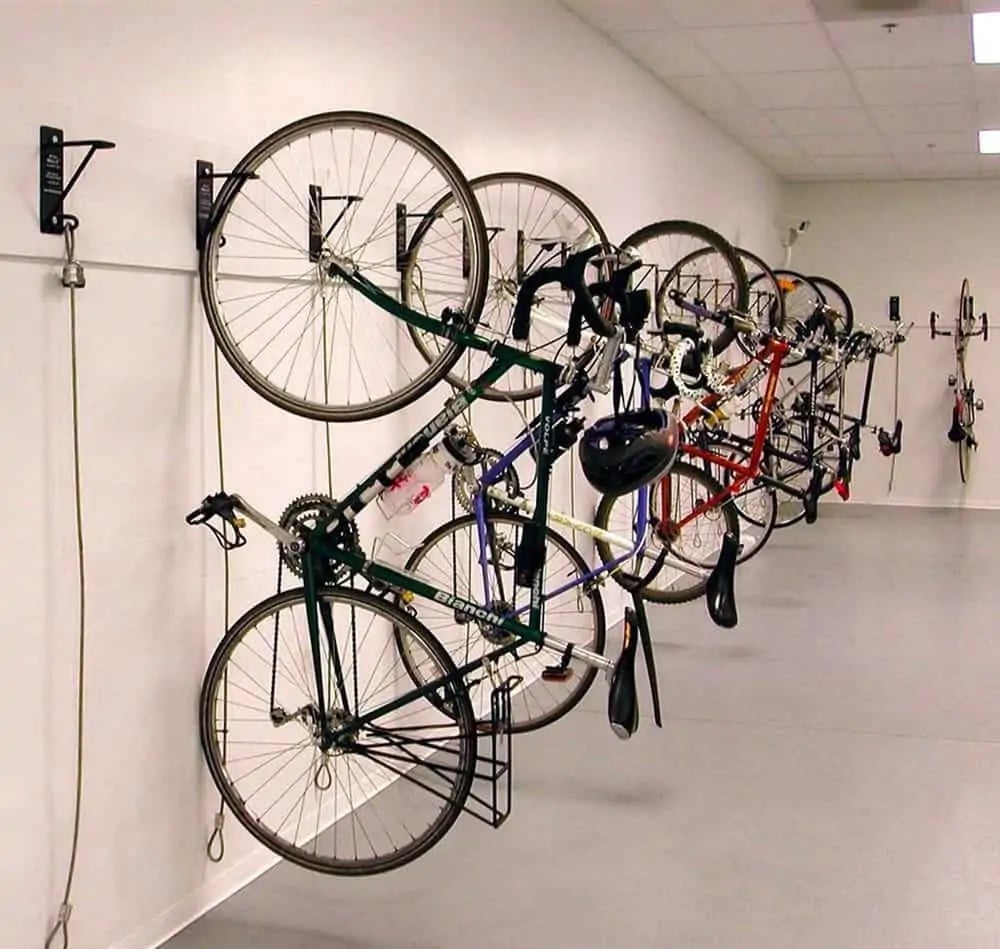 Example 3 – Wall Space Storage
Another great way to store your bike is by making good use of the indoor walls at your home.
Wall mounting stands can not only store your bike horizontally but also can be placed vertically. This way, the areas that would have been dead space otherwise can become useful as storage. They can be enjoyed as interior decoration as well.
In order to use the wall, hangers or hooks to secure the frame need to be mounted, but some may find this as not a rental-friendly way of storing your bike. However, by using a floor-to-ceiling bike mount, it can be easily done without damaging the wall. This kind of mount can be fitted in any room and it can be used for bike hangers as well as racks and many other methods explained below.
Bike Hangers
Bike hangers are placed slightly higher up on a wall and are secured by hooking the top tube horizontally. The road bike itself can be stored high up along the wall, which contributes to space saving.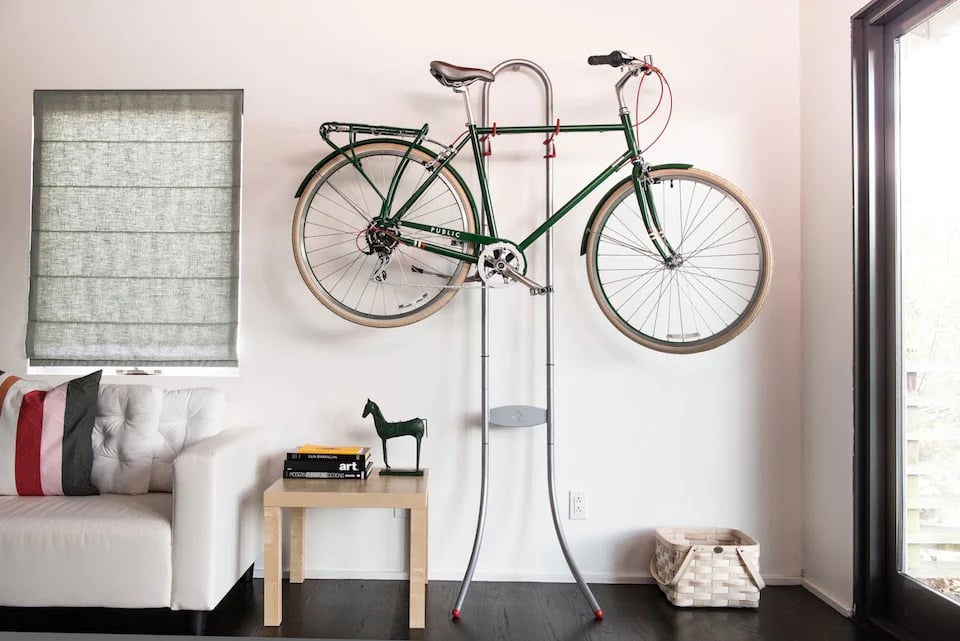 Avoiding Wall Damage 
As we have shown in some pictures there are many wall mounting/vertical storage products available without actually drilling into a wall. You can also easily create a new pillar inside your house by purchasing wooden posts from DIY shops. By fixing the previously mentioned hangers and hooks to the newly created columns, you can hang your road bike on the wall without having to drill holes in the wall itself.
Example 4 – Bike Towers for Multiple Bike Owners
If you have more than one road bike, you might want to consider creating a bike tower. It allows you to hook and secure frames to multiple hangers on a pole, allowing you to arrange two bikes vertically. It is space-saving and has a nice display element on top. You could find a type of pole that is free-standing as well as the floor-to-ceiling type to secure the pole in place.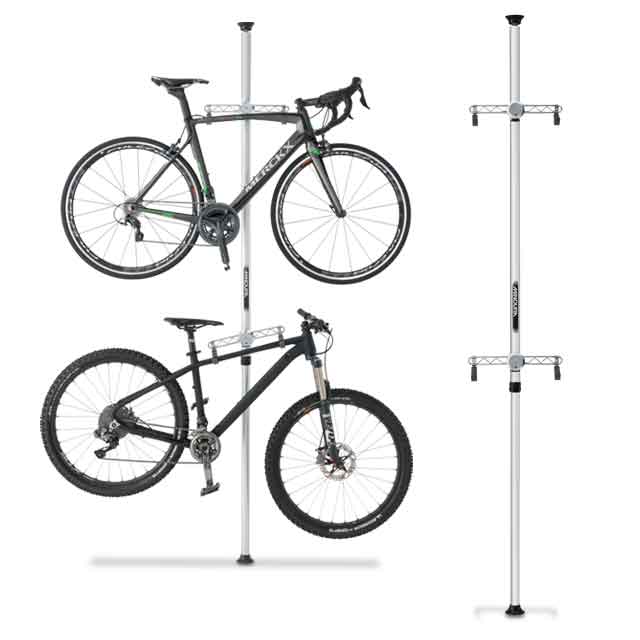 Always Try to Store Your Bikes Indoors to Prevent Theft and Deterioration.
Whichever method best suits your space, don't forget that indoor storage is one of the most effective measures to prevent theft. It is also the best storage method from a maintenance point of view, as it prevents the body and parts from deteriorating due to moisture and UV rays. If you keep it indoors, you could also enjoy displaying your bike as part of the interior design, safe in the knowledge that it is much less of a target to thieves.